Alternate corner design is available as shown below.
"The OD300 sounds great after settling in and combines musical dynamism with a lovely euphonic quality."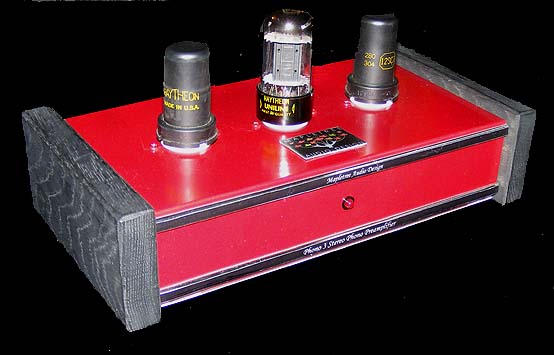 For a number of years, customers have asked about a phono preamplifier that embodies just the phono stage of the
Ultra 4
. The issue was always that the
Ultra 4
was really a phono preamp with line inputs, so there was little price or sonic advantage in going to a dedicated phono version of the
Ultra 4
by omitting the volume/balance controls and source selector switch. The phono gain of the
Ultra 4
is around 48 dB which is suitable for MM cartridges driving a typical tube or solid-state power amplifier. The new
Phono 3
preamplifier incorporates the low-level gain and equalization stages of the
Ultra 4
without the output buffer and with around 10 dB less gain. Thus, it is suited to drive the line input of a preamp or integrated amplifier with at least 5-10 dB of additional gain. The
Phono 3
output has a driving impedance of around 2.5 kOhms, which can drive a reasonable length of interconnect without compromising the high frequency response. Noise at full output is less than 2 mV. Like the other Mapletree preamps, the
Phono 3
is designed to use a separate power supply. Normally, this is the
PSX
unit that powers the
L2X
line preamp. However, the new
PS 2a
power supply can be ordered if sharing the power supply with the
Line 2B
preamp is desired. For those customers who have a
Line 2
preamp and wish to add phono capability, existing
PS 2
power supplies can be modified to
PS 2a
configuration at a nominal cost. Two switched phono inputs are provided, which can be ordered with custom loading specs. A power switch on the rear panel allows powering down the
Phono 3
when just the
Line 2
preamp is needed in a
shared PS2a s
etup. Details and full specifications can be viewed by downloading the User's Manual from the "Users Manuals" page. A full description of the preamp/power supply options for the Mapletree Modular Series is shown below.

---
Modular Series Components
The Mapletree Modular Series of components includes the Line 2B, L2X, Ultra 4B, and Phono 3 preamps, the PSX, PS2, and PS2a power supplies, and the LR 1 and LR 1 Pro line routers. The following chart shows some typical configuration examples. Configuration (a) shows a Phono 3 with PSX power supply feeding an existing line preamp or integrated amp; configuration (b) shows Phono 3 and Line 2B preamps sharaing a common PS 2a power supply; configuration (c) provides both phono and line preamplification with an Ultra 4B preamp powered by the PS 2 power supply; configuration (d) shows a Line 2B feeding an LR 1 line router to direct the output to either a power amp or a headphone amp; configuration (e) provides line level preamplification with a L2X line preamp and PSX power supply. The L2X can be configured for unity gain if no preamplification is required to drive the power amp(s).